Posts for tag: periodontal disease
By Stratford Dental
December 26, 2014
Gum disease, also called periodontal disease (from the roots for "around" and "tooth") starts with redness and inflammation, progresses to infection, and can lead to progressive loss of attachment between the fibers that connect the bone and gum tissues to your teeth, ultimately causing loss of teeth. Here are some ways to assess your risk for gum disease.
Your risk for developing periodontal disease is higher if:
You are over 40.
Studies have shown that periodontal disease and tooth loss correlate with aging. The longer plaque (a film of bacteria that collects on your teeth and gums) is allowed to stay in contact with your gums, the more you are at risk for periodontal disease. This means that brushing and flossing to remove plaque is important throughout your lifetime. To make sure you are removing plaque effectively, come into our office for an evaluation of your brushing and flossing techniques.
You have a family history of gum disease.
If gum disease seems to "run in your family," you may be genetically predisposed to having this disease. Your vulnerability or resistance to gum disease is influenced by genetics. The problem with this assessment is that if your parents were never treated for gum disease or lacked proper instruction in preventative strategies and care, their susceptibility to the disease is difficult to accurately quantify.
You smoke or chew tobacco.
Here's more bad news for smokers. If you smoke or chew tobacco you are at much greater risk for the development and progression of periodontal disease. Smokers' teeth tend to have more plaque and tartar while also having them form more quickly.
You are a woman.
Hormonal fluctuations during a woman's lifetime tend to make her more susceptible to gum disease than men, even if she takes good care of her teeth.
You have ongoing health conditions such as heart disease, respiratory disease, rheumatoid arthritis, osteoporosis, high stress, or diabetes.
Research has shown a connection between these conditions and periodontal disease. The bacteria can pass into the blood stream and move to other parts of the body. Gum disease has also been connected with premature birth and low birth weight in babies.
Your gums bleed when you brush or floss.
Healthy gums do not bleed. If yours do, you may already have the beginnings of gum disease.
You are getting "long in the tooth."
If your teeth appear longer, you may have advancing gum disease. This means that infection has caused your gum tissue to recede away from your teeth.
Your teeth have been getting loose.
Advancing gum disease results in greater bone loss that is needed to support and hold your teeth in place. Loose teeth are a sign that you have a serious problem with periodontal disease.
Even with indications of serious periodontal disease, it can still be stopped. Make an appointment with us today to assess your risks. You can also learn more by reading the Dear Doctor magazine article "Assessing Risk for Gum Disease."
By Stratford Dental
March 18, 2014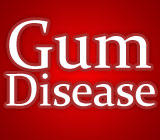 You've been doing "all the right things" — brushing, flossing, and keeping up regular office cleanings and checkups. But you're still struggling with gum disease — in fact, you've recently noticed loose teeth and other signs of infection.
While the primary cause of gum disease is dental plaque and calculus not adequately removed by regular oral hygiene and cleanings, you may also be among a small group of individuals with other risk factors that can worsen the effects of the disease. One of the most common of these factors isn't something you can do much about — the physical characteristics you inherited from your parents. In reality, some people are more genetically prone to disease than others because their body doesn't respond effectively to certain bacteria.
Chronic stress may also play a role in your body's resistance level: it can both increase your risk for the disease and magnify its effects. In addition, the type of bacteria causing the disease could be a factor — our mouths contain thousands of strains, with some bacteria more difficult to control than others.
If your gum disease persists regardless of all our best efforts, we may be able to test for whether any of these other factors are involved. Determining the presence of any of these underlying factors can help us fine-tune our treatment approach.
You should know, however, that it might not be possible to effectively address every factor involved. If that's the case, at some point it may be necessary to consider a tooth replacement option. The best choice by far are dental implants — not only are they functional and life-like in appearance, with proper care they could foster a healthier environment in your mouth by being stronger and more durable than the diseased teeth they've replaced.
Our ultimate goal as dentists is to alleviate gum disease and restore health and function to your teeth and gums. If that isn't completely possible due to uncontrollable factors, we then adopt a strategy to control the disease as much as possible to preserve your teeth for as long as is prudent. This can give you time, then, to prepare yourself mentally, emotionally and financially for future teeth replacement and restoration.
If you would like more information on periodontal disease, please contact us or schedule an appointment for a consultation. You can also learn more about this topic by reading the Dear Doctor magazine article "Periodontal (Gum) Treatment and Expectations."
By Stratford Dental
October 15, 2013
If you have recently noticed swelling, bleeding or pain in your gums, you may have developed a gum abscess. It's the result of periodontal disease, an infection in the gum tissue caused by bacterial plaque that has adhered to the teeth. It's important in the short term to treat the abscess, and in the long-term the underlying gum disease for the survival of the affected tooth and your overall health.
A gum abscess is a sac filled with infection that has developed between the tooth and gum. Besides swelling, you may also notice tenderness when you bite down on a tooth or feel that the tooth is loose. If the abscess originates from a root canal infection it tends to be much more painful, and the pain will seem generalized rather than from a specific tooth.
The first step in treatment is to drain the abscess. We would numb the area with a local anesthetic and then allow the infection to drain. After drainage we would clean and irrigate the infected root surfaces to remove any noticeable bacterial plaque, and possibly prescribe antibiotics and anti-inflammatory medication to reduce swelling and pain. The drained abscess should heal in a few days to a week.
The next step is to treat the underlying cause of the abscess. Depending on what we find in our examination, this can include root planing and scaling (deep plaque and tartar removal), or a root canal treatment where the infected pulp within the root canal is removed, and the canal is then cleaned, filled and sealed.
It's also a good idea for patients with gum disease to have a thorough health checkup. It's possible that other general health conditions such as diabetes or heart disease may be contributing to the gum disease, and vice-versa.
Treating a gum abscess and the underlying cause is about more than relieving pain or discomfort — you're also protecting your dental and general health.
If you would like more information on the treatment of abscesses or gum disease, please contact us or schedule an appointment for a consultation. You can also learn more about this topic by reading the Dear Doctor magazine article "Periodontal (Gum) Abscesses."