Posts for: September, 2014
By Stratford Dental
September 23, 2014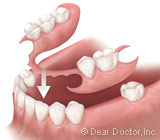 While dental implants are the preferable choice for teeth replacement, your life circumstances may cause you to postpone it or some other permanent restoration. In the meantime, you need a temporary solution for your tooth loss.
Removable partial dentures (RPDs) have met this need for many years. RPDs are traditionally made of rigid, acrylic plastic resin and fasten to existing teeth with metal clasps. While effective as temporary tooth replacements, RPDs do have their drawbacks: they can be uncomfortable, develop a loose fit and are prone to wear and staining.
Recently, though, new RPDs made of a flexible type of nylon are addressing some of these drawbacks. Because the nylon material is thermoplastic (able to change shape under high heat), it can be injected into a cast mold of a patient's mouth to create the denture base, to which life-like replacement teeth are then attached. And rather than a metal clasp, these RPDs have thin, finger-like nylon extensions that fit snugly around existing teeth at the gum line.
The new RPDs are lightweight, resistant to fracture and offer a more comfortable, snugger fit than the older RPD. And because the nylon material can be made to closely resemble gum tissue, the base can be designed to cover receding gum tissue, which may further improve the appearance of a patient's smile.
On the downside, these new RPDs are difficult to reline or repair if they're damaged or the fit becomes loose. And like all RPDs, they must be regularly removed and cleaned thoroughly to prevent any accumulating bacterial biofilm that could increase the risk of gum disease or tooth decay (the attachment extensions are especially susceptible to this accumulation). They should also be removed at night, since the reduction in saliva flow while you sleep can worsen bacterial buildup.
Still, the new flexible RPD is a good choice to bridge the time gap between lost teeth and a permanent restoration. They can restore lost function and improve your smile during the transition to implants or a fixed bridge.
If you would like more information on temporary tooth replacement, please contact us or schedule an appointment for a consultation.
By Stratford Dental
September 08, 2014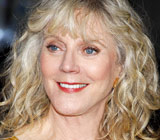 After her husband, producer Bruce Paltrow, succumbed to oral cancer in 2002, actress Blythe Danner made it her mission to help save other families from the heartache she and her children (Jake and Gwyneth Paltrow) suffered with his loss. Now active with the Oral Cancer Foundation, Blythe uses her fame to bring awareness to the disease, which she says she and her family knew very little about before Bruce received his diagnosis.
In an interview with People magazine, Blythe said she believes her husband's cancer could have been detected earlier if the family had been alert to the symptoms.
"For months I had noticed Bruce's voice was hoarse," she said. "I started asking him to see a doctor. But he kept saying, 'No, no, no, I'm fine.' "
When a lump became visible in his neck, he did go to the doctor and found he had a tumor in his throat. The cancer eventually spread to his lymph nodes. Compounding Blythe's sadness is the feeling that she might have been able to do something to prevent her husband's death.
"I feel tremendously guilty," she told the magazine, noting that she wishes she had simply insisted her husband get himself checked out. "Education and early detection are so important," she said of her campaign to raise awareness. "That's why I'm doing this."
Though Bruce Paltrow was a smoker, it's important to note that young, non-smokers comprise the fastest-growing segment of the population being diagnosed with the disease. That's because a sexually transmitted virus known as HPV16 is now a major cause of oral cancer.
Oral cancer screenings are yet another good reason to make regular semi-annual visits to the dentist. We have the training to notice oral abnormalities, and to monitor and/or biopsy any suspicious lesions. At your oral cancer screening, we will feel your neck for lumps and inspect your lips and all inside surfaces of the mouth, including the back of your throat.
Of course, if you or a loved one experience persistent hoarseness, white or red patches or other changes in your mouth or tongue that don't go away in a few weeks, please don't hesitate to come in and see us.
If you have any concerns about oral cancer, please contact us or schedule an appointment for a consultation. You can learn more about the disease in the Dear Doctor magazine article "Oral Cancer."