Posts for: July, 2013
By Stratford Dental
July 23, 2013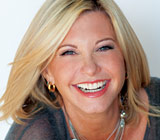 Olivia Newton-John, now in her early 60's, is still a fresh-faced picture of health — with a radiant smile to match. How does she do it? She does it with healthy habits learned from her German-born mother, Irene.
"I love greens, and as many organic vegetables as possible," Olivia recently told Dear Doctor magazine. "From spinach to salads to beets — pretty much any and all greens!"
Olivia credits her mom with instilling her lifelong love of healthy foods. Irene used dark bread rather than white bread for sandwiches and even made her own yogurt — which she used as a topping on baked fruit for dessert.
"Growing up, my mum really taught us some great eating habits," Olivia told the magazine. "When I was a girl in school, all of my friends would have cakes and cookies and fun foods but my mum was all about teaching us to eat healthy foods and to be very aware of what we were putting into our bodies. At the time I was annoyed about it, but looking back now I thank her for teaching me at an early age to eat healthily."
Irene paid particular attention to her children's oral health. "My mum always made us brush and floss after every meal so, once again, like the foods we ate, she taught us early about the importance of great dental hygiene," said Olivia, who has an older brother and sister.
As a mom herself, Olivia passed those healthy habits down to her daughter, Chloe.
"I always insisted on regular dental checkups and limited sugar, especially in soft drinks — they were never in our fridge," she said.
Parents do play an important role in developing healthy oral habits from the very beginning, starting with proper tooth-brushing techniques. By age 2, a brushing routine should be established using a smear of fluoride toothpaste. For older toddlers, parents can use a child's size soft toothbrush with water and a pea-sized amount of fluoride toothpaste. Children need help brushing until at least age 6, when they can generally take over brushing by themselves and also learn to floss.
The point of a good daily oral hygiene routine is to remove the film of bacteria that collects daily along the gum line, and in the nooks and crannies of teeth. Effective daily removal of this biofilm will do more to prevent tooth decay and promote lifelong dental health than anything else.
If you would like to learn more about preventing tooth decay or teaching your child to brush and floss correctly, please contact us or schedule an appointment for a consultation. If you would like to read Dear Doctor's entire interview with Olivia Newton-John, please see "Olivia Newton-John." Dear Doctor also has more on "How to Help Your Child Develop the Best Habits for Oral Health."
By Stratford Dental
July 08, 2013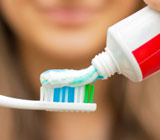 Since the time of the ancient Egyptians, people have used mixtures of various substances in pursuit of a single goal: cleaning their teeth effectively. Today, even with a glut of toothpaste tubes on the supermarket shelf, most people seem to have a particular favorite. But have you ever thought about what's in your toothpaste, and how it works? Here are five facts you might not know.
1) Most toothpastes have a very similar set of active ingredients.
Once upon a time, a toothpaste might have contained crushed bones and oyster shells, pumice, or bark. Now, thankfully, they're a little different: today's toothpaste ingredients generally include abrasives, detergents and fluoride compounds, as well as inert substances like preservatives and binders. Toothpastes formulated to address special needs, like sensitive teeth or tartar prevention, have additional active ingredients.
2) Abrasives make the mechanical action of brushing more effective
These substances help remove stains and surface deposits from teeth. But don't even think about breaking out the sandpaper! Modern toothpastes use far gentler cleaning and polishing agents, like hydrated silica or alumina, calcium carbonate or dicalcium phosphate. These compounds are specially formulated to be effective without damaging tooth enamel.
3) Detergents help break up and wash away stains
The most common detergent in toothpaste (which is also found in many shampoos) is sodium lauryl sulfate, a substance that can be derived from coconut or palm kernel oil. Like the abrasives used in toothpaste, these detergents are far milder than the ones you use in the washing machine. Yet they're effective at loosening the stains clinging to your teeth, which would otherwise be hard to dissolve.
4) Fluoride helps prevent tooth decay
This has been conclusively demonstrated since it was first introduced into toothpaste formulations in 1914. Fluoride — whether it's in the form of sodium fluoride, stannous fluoride or sodium monofluorophosphate (MFP) — helps strengthen tooth enamel and make it more resistant to acid attack, which precipitates tooth decay. In fact, it's arguably the most important ingredient, and no toothpaste can receive the American Dental Association's Seal of Approval without it.
5) Look for toothpaste with the ADA seal
This means that the particular brand of toothpaste has proven effective as a cleaning agent and a preventative against tooth decay. Plus, if the package says it has other benefits, then research has verified that it does what it says. Oh, and one other thing — toothpaste doesn't work if you don't use it — so don't forget to brush regularly!
If you have questions about toothpastes or oral hygiene, please contact us or schedule an appointment for a consultation. You can learn more in the Dear Doctor magazine article "Toothpaste — What's In It?"