Posts for: April, 2013
By Stratford Dental
April 20, 2013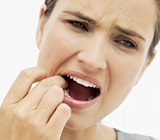 Don't ignore tooth pain hoping it goes away. No matter how mild or fleeting it may be, it's a sign that something's wrong. Healthy teeth shouldn't cause discomfort because the parts containing the nerves — the interior pulp and the dentin around it — are shielded by dental enamel and gums.
Here are some common reasons that teeth ache:
Gum Recession. Over time, gums can recede. Improper or excessive brushing can affect them, especially if you are genetically predisposed by having thin gums. When gums retreat, dentin can, or eventually will, be exposed. Besides its susceptibility to sensation, dentin is also more vulnerable to erosion and decay than enamel.
Tooth Erosion/Decay. When acid-producing oral bacteria get the upper hand, they can eat through the tooth's protective enamel to the dentin. You may start feeling sensitivity as the decay gets deeper and closer to the pulp (nerves). Only removal of the decay and filling the cavity can stop the process.
Old/Loose/Lost Filling. Fillings seal off areas of past decay. If they don't fit right or are dislodged altogether, air or food particles can slip inside and irritate exposed nerve endings. A crevice to hide in makes it prime real estate again for bacteria, too.
Cracked Tooth. Teeth grinding and jaw clenching can have a similar impact on teeth that a miner's pick has on rock. At first thin lines in your enamel can develop, then cracks develop that may expose the dentin, and finally the tooth might fracture, exposing the pulp. The earlier this process is caught, the better.
Pulp Tissue Infection/Inflammation. This can be caused by deep decay or trauma and suggests your tooth may be in its death throes. Sometimes the pulp infection travels into the surrounding periodontal (peri – around; odont – tooth) tissues and causes an abscess to develop. This absolutely requires immediate attention.
Residual Sensitivity from Dental Work. Removal of decay before placing a filling can cause tooth sensitivity. It can take 1-4 weeks or so to improve.
Sinus Pain. Congestion can cause "referred" pain in the upper teeth. When the congestion subsides, the pain should, too.
As you can see, it's risky to discount tooth pain and "wait 'til it goes away." Our office can help you determine the origin of your pain and the best course of action to resolve it. When in doubt, it's always better to err on the side of caution!
If you would like more information about tooth pain and ways to prevent or treat it, please contact us or schedule an appointment for a consultation. You can also learn more about this topic by reading the Dear Doctor magazine articles "Tooth Pain? Don't Wait!" and "Sensitive Teeth."
By Stratford Dental
April 04, 2013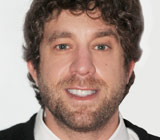 One day, while looking at old pictures of himself, 34-year-old American Idol finalist Elliott Yamin noticed something peculiar. "I [had] figured out how to kind of smile without displaying all my teeth," he told an interviewer with People magazine. The reason: Yamin (like many other people) was unhappy with the way his teeth looked. And others noticed it too: "[They] wrote things in magazines, called me Snaggletooth and things like that," he said.
Yamin's situation came to the attention of dentists from across the country, several of whom offered to fix his crossbite and other problems. One of them even provided the singer with computer-generated renderings of how he'd look after a total "smile makeover" — and that was enough to convince him. Finally, after receiving a set of porcelain veneers and other dental work — all provided free of charge by the concerned dentist — Yamin has the smile he always dreamed of.
You don't have to be an American Idol finalist to appreciate the benefit of having a super smile — and it's never too late to get started! As Yamin found out, a "smile analysis" is the first step, and it's a critical part of the process. This is the time when you and your dentist get to know each other, and begin talking about what kind of a look you want to achieve, and what you should realistically expect.
But it can be tough to express in words exactly what your idea of a perfect smile looks like. Are the teeth completely regular in alignment and "Hollywood white?" A little bit asymmetrical and more natural-looking — or something in between? And exactly how would that look on you? Fortunately, we have a variety of ways to help you make those decisions.
One is computer-generated images, like the ones that persuaded Yamin. Convenient and relatively easy to produce, they're a great way to preview possible changes before a single tooth is touched. However, some people may find it hard to picture their new smile from different angles and in different lights. If you'd like a better representation, it's possible to produce a 3-D model of the proposed work before it's done. This can let you truly visualize your new smile in a realistic way.
If you need even more evidence before deciding, there's still more that can be done. Your teeth can be built up to their new contours with composite resin, a tooth-colored restoration material that can change tooth shape and size with relative ease. A related procedure, the "provisional restoration," gives you a complete preview of the final work. When you're satisfied, the "temporary" materials are replaced with more permanent ones, like long-lasting porcelain veneers. Whichever method you choose, you'll be on your way to a better looking smile.
If you would like more information about a smile makeover, please contact us or schedule an appointment for a consultation. You can also learn more by reading the Dear Doctor magazine articles "Great Expectations — Perceptions in Smile Design" and "Smile Design Enhanced with Porcelain Veneers."